Prevalence of Oral Manifestations of Inflammatory Bowel Disease in Patients Admitted to Sulaymaniyah teaching hospital – Iraq
Keywords:
inflammatory bowel diseases (IBD), ulcerative colitis (UC), Crohn's disease (CD), aphthous stomatitis, oral mucosal lesion
Abstract
The aim of this study is to evaluate the association between IBD and oral symptom and mucosal lesions in patients with Crohn's disease and ulcerative colitis
Methods: This is a cross-sectional study that has been done in (Kurdistan center for Gastroenterology and hepatology) of Teaching Hospital in Sulaymaniyah-Iraq, which included 101 patients previously diagnosed with Inflammatory Bowel Disease who were interviewed regarding manifestations of inflammatory bowel disease especially oral manifestations. Required data were collected through a specially designed questionnaire,
Results: The patients' mean age was 45.74±12.58 years. Patients with ulcerative colitis and Crohn's disease were not significantly different in terms of age, sex, smoking, and drinking alcohol (p>0.05), and it was seen that age groups 41-50 and 51-60, males, smokers, and drinkers were more affected by these two diseases. They were not significantly different in terms of chief complaint, drug history, oral hygiene, and disease duration (p>0.05). Most of the patients (78 out of 101) had fair or poor oral hygiene. The two groups of the patients were not significantly different in terms of oral manifestations and symptoms (p>0.05). The most common oral manifestations were found to be respectively angular cheilitis, aphthous ulcer, and diffuse lip swelling in both diseases. The most common symptoms were respectively dry mouth and halitosis.
Conclusion: This study revealed that dentists and oral and maxillofacial Medicine could involve in a diagnosis of IBD, by at least in the referral process, because patients in clinical setting may give a history of orofacial complaints giving a hint on possible systemic background of IBD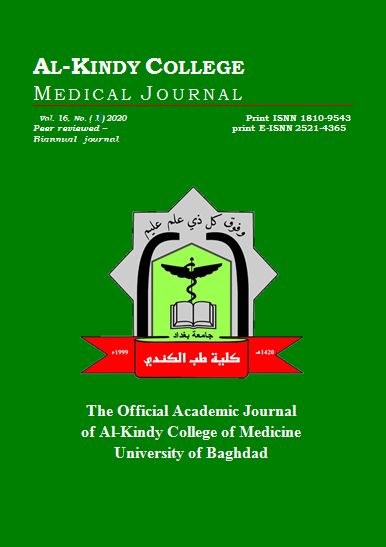 How to Cite
Hamasur, K. (2020). Prevalence of Oral Manifestations of Inflammatory Bowel Disease in Patients Admitted to Sulaymaniyah teaching hospital – Iraq. AL-Kindy College Medical Journal, 16(1), 47-53. https://doi.org/10.47723/kcmj.v16i1.190