Serum Ferritin and Body Mass Index in Chronic Telogen Effluvium among women attending the main dermatological outpatient clinics in BaghdadSerum Ferritin and Body Mass Index in Chronic Telogen Effluvium among women attending the main dermatological
Ali Abdulrazak H Al-Nakash

Yousif Abdul Raheem
Keywords:
: Chronic Telogen Effluvium, Serum ferritin level and Body Mass Index.
Abstract
Background: Hair loss is a common distressing disease and challenging problem for many dermatologist. Telogen effluvium is the most common hair loss disease in which nutritional deficiencies may precipitate the disease through their effect on hair structure and growth.
Study Aim : Validating role of serum ferritin level and body mass index in Chronic Telogen Effluvium and analyzing association between these factors with socioeconomic, demographic, gynecological factors and weight loss effect. Establishing a nutritional preventive advice to improve treatment successfulness and decrease the disease occurrence.
               Methods :  A case series study on 327 chronic telogen effluvium patients (15-65 years old) main teaching dermatological outpatients' clinics in Baghdad. Data were collected by direct interview and questionnaire filling to analyze the associations between variables set in the data collection tool with serum ferritin level and body mass, which in turn may precipitate chronic telogen effluvium.
Results :Mean patients' age was 39±9 years, 93.6% of patients had serum ferritin below normal for hair cycle requirement (≤70μg/l). Serum ferritin significantly associated with age (p value= 0.002) and 41.1% of poor socioeconomic patients had serum ferritin ≤20μg/l.
 Nearly half of the patients with ≥3 pregnancies, 43.9% of patients on weight-losing diet and 52.7% of those who actually lost weight had low ferritin levels with statistically significant associations. Being obese is a risk factor for having low serum ferritin (OR= 0.297).
Conclusion : Serum ferritin found to be ≤ 70μg/l in the majority of chronic telogen effluvium patients, which is significantly associated with patients' socioeconomic status, age, and weight status.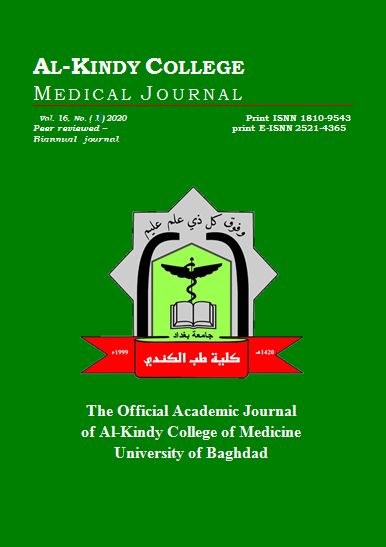 How to Cite
H Al-Nakash, A., & Abdul Raheem, Y. (2020). Serum Ferritin and Body Mass Index in Chronic Telogen Effluvium among women attending the main dermatological outpatient clinics in BaghdadSerum Ferritin and Body Mass Index in Chronic Telogen Effluvium among women attending the main dermatological. AL-Kindy College Medical Journal, 16(1), 102-109. https://doi.org/10.47723/kcmj.v16i1.200