A Population-Based Study on Agreement between Actual and Perceived Body Image
Sajjan Iqbal Memon

1. Department of Health Administration, King Saud University, Riyadh

Rabiqa Rabiqa

Department of Physiotherapy, Iqra University North Campus, Karachi, Pakistan

Ashok Kumar

Institute of Physiotherapy & Rehabilitation Sciences, LUMHS Jamshoro

Ramzana Perveen,

Collage of Physiotherapy JPMC Karachi, Pakistan

Noor Ejaz

KKT International orthopedic Spine Centre, Faisalabad Pakistan

Syed Meeran Hasnain

Private Physiotherapy Clinician, Karachi Sindh

Najma Memon

Department of Gynaecology, LUMHS Jamshoro Sindh Pakistan

Ziauddin Anwar Memon

Regional Police Hospital Hyderabad Sindh. Pakistan

Syed Altaf

Physiotherapy Department SBB Dewan University, Karachi, Pakistan
Keywords:
Obesity, BMI, Body Image, Perception and General Population
Abstract
Background: Obesity tends to appear in modern societies and constitutes a significant public health problem with an increased risk of cardiovascular diseases.
Objective: This study aims to determine the agreement between actual and perceived body image in the general population.
Methods: A descriptive cross-sectional study design was conducted with a sample size of 300. The data were collected from eight major populated areas of Northern district of Karachi Sindh with a period of six months (10th January 2020 to 21st June 2020). The Figure rating questionnaire scale (FRS) was applied to collect the demographic data and perception about body weight. Body mass index (BMI) used for assessing the actual body weight status. Cohen's Kappa statistics were performed.
Results: Out of 300 participants, n=143 were males, and n=157 were females. In reality, according to BMI, 6 % were underweight, 47 % were average, 28 % were overweight, and 19 % were obese. According to perception, 8% of participants were underweight, 39 % were average, about 45% were overweight, and 8 % were obese. The mean score of real BMI was 25. 51±5.62 and figure rating score was 4.81±1.75. r value showed a strong positive relationship between both variables with a a P-value of <0.001. Cohen's Kappa score was 0.362. The rate of agreement between actual and perceived body weight status in the general population was 53.88%, and the disagreement rate was 46.12%
Conclusion: There was a weak agreement in the perception and realities of the self-image of people have the wrong impression about their body image.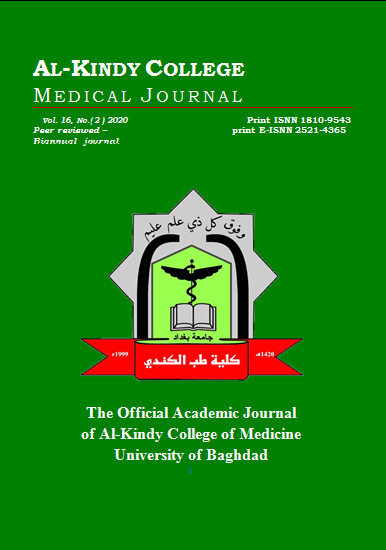 How to Cite
Memon, S., Rabiqa, R., Kumar, A., Perveen, R., Ejaz, N., Hasnain, S., Memon, N., Memon, Z., & Altaf, S. (2020). A Population-Based Study on Agreement between Actual and Perceived Body Image. AL-Kindy College Medical Journal, 16(2), 7-10. https://doi.org/10.47723/kcmj.v16i2.255
Section
Research Articles