Iraqi women Attitude towards Immediate Post-partum/ Post-abortion Contraception: a multi-institutional study
Sara K. Jafaar

AL-Jamiaa Primary Health Care Center, Baghdad, Iraq

Taghreed K. Alhaidari

Obstetrics and ‎Gynaecology, Al Kindy College of Medicine, University of Baghdad, Elwiyah ‎Maternity Teaching Hospital, Baghdad, Iraq

https://orcid.org/0000-0001-8494-8760

Areege M. Kamal

Pathology department, Oncology Teaching Hospital, Baghdad Medical City, Baghdad, Iraq.

https://orcid.org/0000-0001-5239-9699

Eqbal G. Ali

Paediatric Nursing Department, College of Nursing, University of Baghdad, Baghdad, Iraq
Keywords:
immediate post-partum contraception, immediate post-abortion contraception, satisfaction, attitude, Iraq
Abstract
Background: Immediate postpartum contraceptive and post abortion contraception methods are effective safe methods and are becoming a standard practice in many countries, yet it is not widely used in Iraq.
Aims: this study: is designed to assess the attitude and willingness of women to immediate contraception after giving birth or abortion and their satisfaction to previous use.
Methods and Material: Four hundred thirty-four women were surveyed in the labor word immediately after giving birth/ abortion. Their knowledge, attitude and contraception use were assessed according to the response they reported to a given questionnaire.
Results: women were not sure about the ideal time to begin using birth control post- partum.122 out of 434 (28%) have not heard about the immediate use of contraception before, only 97/434 (22.3%) reported a previous use of immediate contraception after previous birth / abortion. The satisfaction of the women to previous immediate contraception use was reported by 61/97 (77%) versus 7/97 (7%) who were not satisfied. High educated females with unstable income and women having more than five children depicted significantly higher willingness to immediate postpartum/ abortion contraception use (P=0.026, P<0.001, P=0.001) respectively. Similarly, a significant association was observed between positive attitude and pregnancy complications, including diabetes, bleeding and hypertension (P=0.001) and craving (P=0.003).
Conclusions: Iraqi women showed high willingness to immediate post-partum/abortion contraception use; nonetheless small proportion have actually used it. Poor knowledge of various contraceptive types, best time of use with less side effect are the main obstacles for family planning.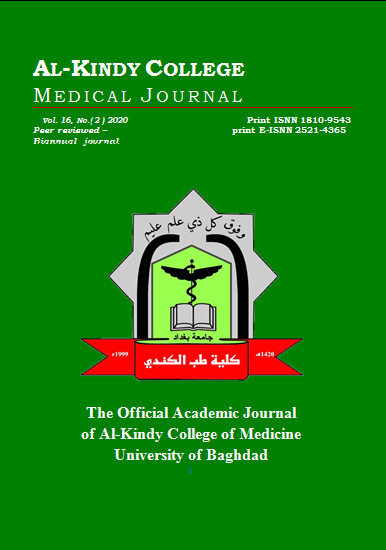 How to Cite
Jafaar, S., Alhaidari, T., Kamal, A., & Ali, E. (2020). Iraqi women Attitude towards Immediate Post-partum/ Post-abortion Contraception: a multi-institutional study. AL-Kindy College Medical Journal, 16(2), 11-15. https://doi.org/10.47723/kcmj.v16i2.258
Section
Research Articles