The immediate and late results for balloon angioplasty of native coarctation of aorta in pediatrics age group
Maitham Qasim Mohammed

Ibn Al-Nafis cardiovascular teaching hospital., Baghdad, Iraq

Husam Thaaban Al-Zuhairi

Ibn Al-Nafis cardiovascular teaching hospital., Baghdad, Iraq

Ameer Adnan muhsen

Sadiq M. Al Hamash

Al-Bitar center for cardiac surgery, Baghdad, Iraq
Keywords:
coarctation of aorta, ballon angioplasty
Abstract
Background: percutaneous balloon dilation of corotation of aorta is a less invasive and alternative to surgical repair for patients with discrete coaction of aorta and although the used of balloon angioplasty in patients with recurrent postoperative coarctation gained a wide consensus, the use this technique for native coarctation is still controversial in children less one years. 
Objective: to evaluate the immediate and late result of balloon dilation of native coarctation of aorta in infant and children.
Type of the study: A prospective study. 
Subjects & Methods: The study was done on forty-five patients who were referred for cardiac catheterization and balloon angioplasty of native coarctation of the aorta at Ibn-AL-Bitar center for cardiac surgery between January 2015 to May 2016.Left heart catheterization was performed with evaluation of the morphology and pressure gradient across the stenotic segment of aorta. Follow up evaluations were done between 1 week and 18 months after discharge (mean 6 months) with transthoracic echocardiography. 
 Results: The age of patients range from 1month to 4 years (median age at time of procedure was12.3month).  Associated lesions in 11 patients (24.4%).  Immediate results were reduction in gradient from 42.5± 17.3 to 10.3± 8.2 mm Hg in forty-two patients (93.3%). Late result during follow up period, 29 patients (69%) had maintain gradient less than 20mmHg. Complications were reported in 6 patients (13.3%). there was one procedure related death (2.2%).  
 Conclusions: Balloon angioplasty for treatment of native coarctation of the aorta is effective with sustained benefit on long-term follow-up in infants and children >6 months. Transverse arch hypoplasia and children <6 months old has major effect on late outcome of recurrent coarctation of aorta.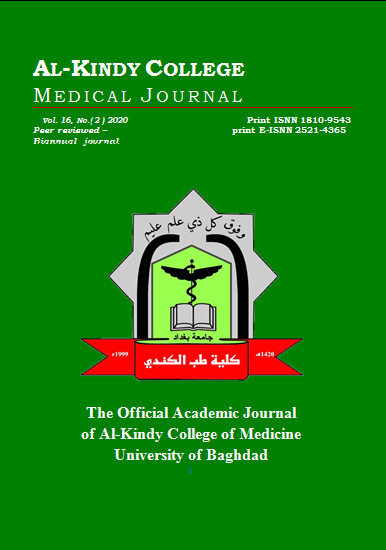 How to Cite
Mohammed, M., Al-Zuhairi, H., muhsen, A., & Al Hamash, S. (2020). The immediate and late results for balloon angioplasty of native coarctation of aorta in pediatrics age group. AL-Kindy College Medical Journal, 16(2), 16-20. https://doi.org/10.47723/kcmj.v16i2.259
Section
Research Articles