Assessment of the Effects of SARS-Cov-2 Infection on Multiple Organs Using Laboratory Indices
Keywords:
SARS-Cov-2, COVID-19, laboratory result, Liver, Heart, Kidney
Abstract
Background: Severe acute respiratory syndrome coronavirus 2 (SARS-Cov-2) is still a severe threaft for human health currently, and the researches about it is a focus topic worldwide.
Aim of the study: In this study, we will collect some laboratory results of the patients with coronavirus disease (COVID-19) to assess the function of liver, heart, kidney and even pancreas. 
Subjects and Methods: Laboratory results of the patients with COVID-19 are collected. The biochemical indices are classified and used to assess the according function of liver, heart, kidney; meantime, and blood glucose is also observed and taken as an index to roughly evaluate pancreas.
Results: There were some indices exhibited abnormal. For patient 1, the ratio of albumin and globulin slightly was lower than the down-limit of reference range. For patient 2, alanine aminotransferase (ALT), aspartate aminotransferase (AST), gamma-glutamyltransferase (GGT), creatine kinase (CK), creatinine kinase-MB isoenzyme (CK-MB), lactate dehydrogenase (LDH), alpha-hydroxybutyric dehydrogenase (HBDH), and beta-2 microglobulin (β2-MG) were respectively higher than the according upper limit of the reference range, while prealbumin (PA) was lower than the down limit. For patient 3, GGT, CK, PA were high than normal range. For patient 4, CK, LDH, HBDH were higher than the upper range.
Conclusion: Infection of SARS-Cov-2 could cause liver and heart injury, and it is suggested that clinicians and researchers should pay more attention on the prevention, treatment and causative mechanism of such an injury.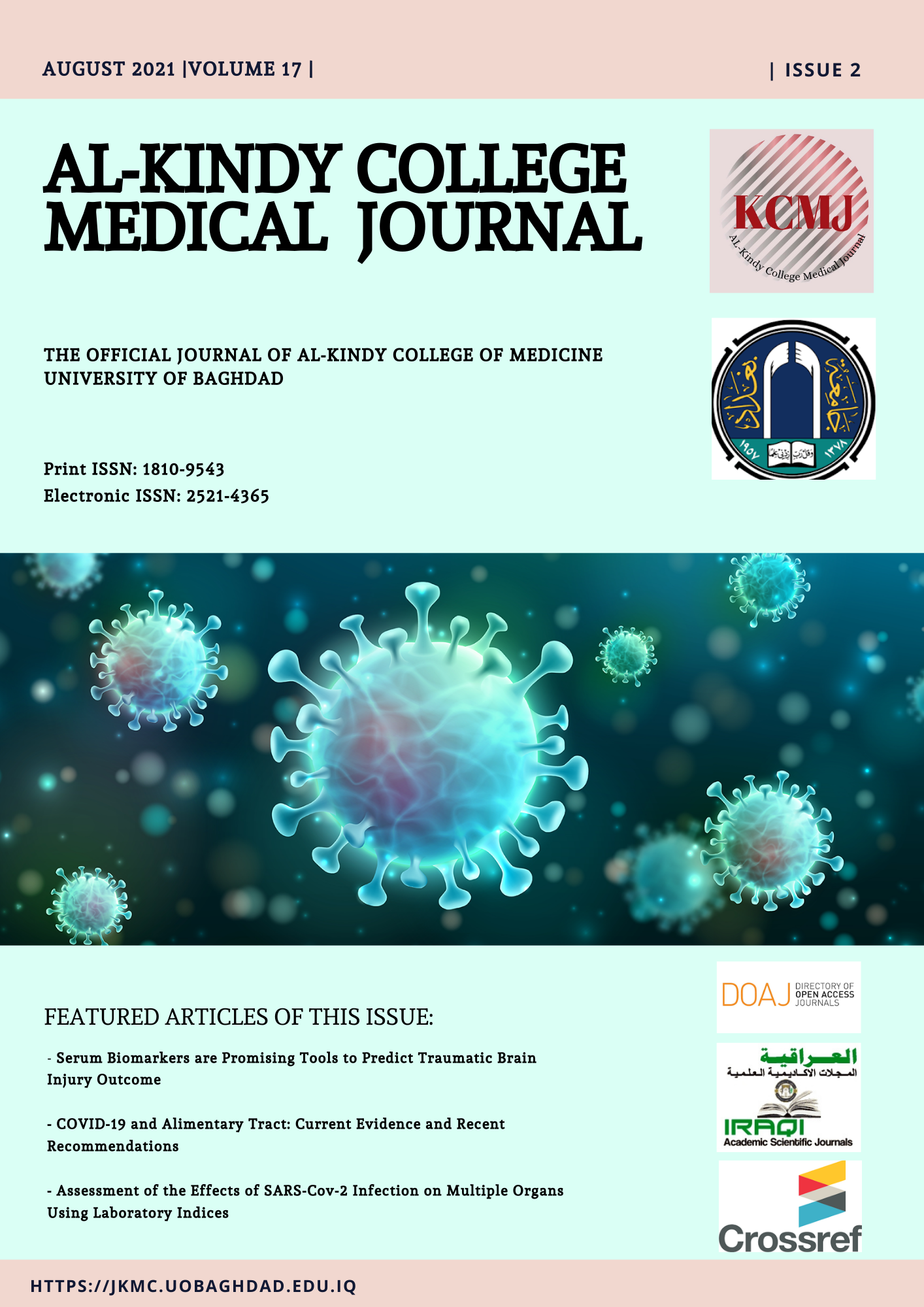 Downloads
How to Cite
Zhou, J., Li, Y., Kong, C., Li, Y., & Liang, Y. (2021). Assessment of the Effects of SARS-Cov-2 Infection on Multiple Organs Using Laboratory Indices. AL-Kindy College Medical Journal, 17(2), 73–78. https://doi.org/10.47723/kcmj.v17i2.429
Section
Research Articles