Time-Trend Analysis of Bladder Cancer and its Association with Bilhariziasis in Egypt
Keywords:
Belhariziasis, schistosomiasis, time trent
Abstract
Background: Both bladder cancer and schistosomiasis are endemic in Egypt. The former has a unique epidemiological pattern, which has been linked to bladder infestation by Schistosoma. The last decades have witnessed a great reduction in the infection rate of schistosomiasis and a decline in the incidence and changes in the patterns of bladder cancer. Whether these changes are linked to each other or a co-incidence is a subject of investigations.
Method: Literature on epidemiological data of bladder cancer and Schistosoma in Egypt was searched for in Medline, Scopus, PubMed, and Google Scholar. Furthermore, a hand search for literature and reports released by the Egyptian government and involved agencies was performed.
Results: Studies describe an overall reduction in Schistosoma infection rate from 80% in 1920s to 1.2% in 2006. Studies on bladder cancer epidemiology, on the other hand, agree on a decline in incidence and changes in the pattern, but differ in figures describing the magnitude of these changes. Many studies tried to ling the changes in Schistosoma and bladder cancer patterns. The evidence for this link, however, seems to be insufficient for a cause-and-effect relationship.
Conclusion: The relationship between the reduction in schistosomiasis infection rate and the changes in bladder-cancer epidemiological pattern in Egypt cannot be overlooked, but needs to be proved by more reliable evidence like prospective studies that include local health facilities and tertiary cancer centers.
Objective: explore the possible cause-and-effect relationship between the changes in Schistosoma infection rates and incidence and patterns of bladder cancer in Egypt.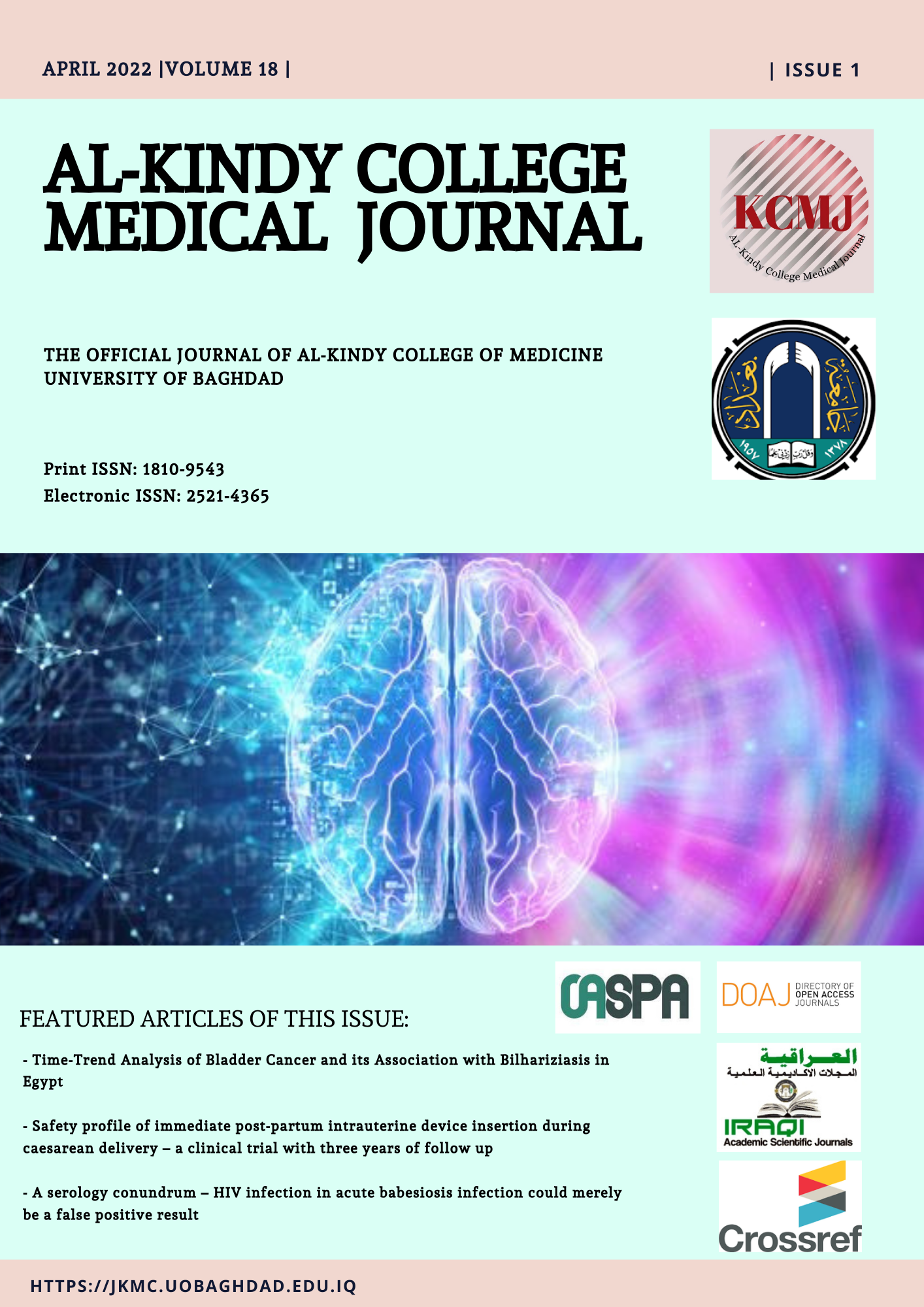 Downloads
How to Cite
Muter, S. (2022). Time-Trend Analysis of Bladder Cancer and its Association with Bilhariziasis in Egypt. AL-Kindy College Medical Journal, 18(1), 5–9. https://doi.org/10.47723/kcmj.v18i1.496
License
Copyright (c) 2022 AL-Kindy College Medical Journal
This work is licensed under a Creative Commons Attribution 4.0 International License.