Impact of Tobacco Use in the Etiology of Chronic Renal Failure Among Sudanese Patients
Tobacco and Renal Failure Among Sudanese Patients
Keywords:
Chronic Renal Failure, Tobacco, Sudan, Educational level
Abstract
Background: Chronic renal failure (CRF) is a clinical syndrome that occurs when there is gradual decline in renal operation overtime.
Objective: This study aims to investigate the prevalence of depression among medical students at university of Baghdad, college of medicine in Iraq and the association between some variables and depression.
Aim: This study aimed to identify the impact of tobacco use in the etiology of chronic renal failure among Sudanese patients in Omdurman Military Hospital and Omdurman Kidney Dialysis Center
Materials and methods: This descriptive community-based study was conducted in Khartoum State. A random sample of 100 cases with chronic renal failure and 100 control subjects were selected. Demographic, socioeconomic characteristics, prevalence of tobacco use among the respondents and incidence of acute and chronic illnesses associated with renal failure were statically tested to find its correlation to renal failure
Results: Findings showed that there was no significant statistical association between educational level and occupational status, to chronic renal failure (P-value > 0.05). Use of tobacco including cigarettes, snuff and water pipe, indicated significant association (P-value ≤ 0.05).
Conclusion: From the above findings the followings could be concluded that educational level showed significant statistical correlation to chronic renal failure. Use of tobacco (smoking, snuff and water pipe) is one of the most important remediable renal risk factors.
Further studies focusing on controlled information on the success of a modem smoking cessation strategy in renal patients is highly recommended.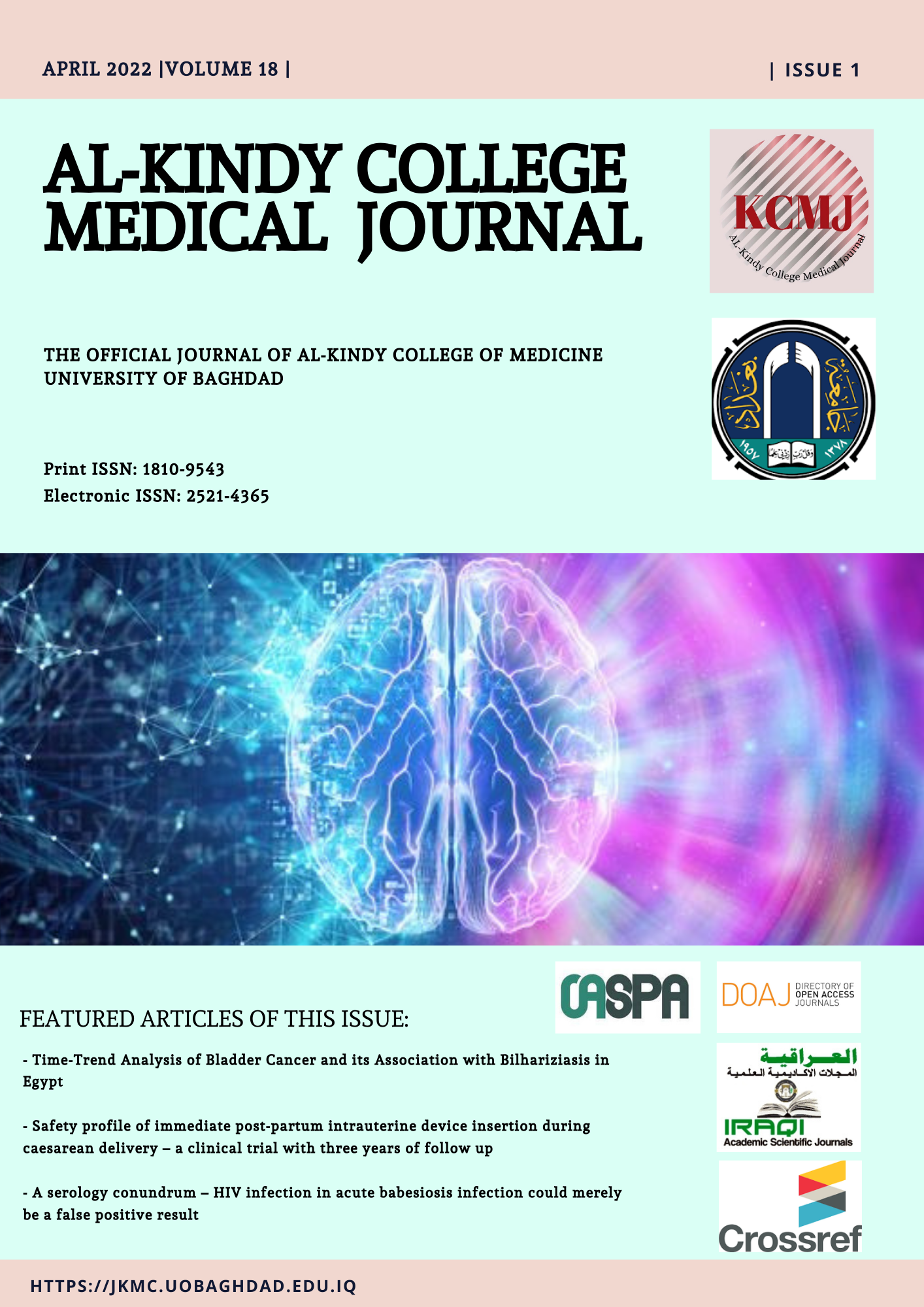 Downloads
Published
2022-05-05 — Updated on 2022-05-15
How to Cite
Idris, A. A. A., Mohammed, H. I., & Osman, M. I. (2022). Impact of Tobacco Use in the Etiology of Chronic Renal Failure Among Sudanese Patients: Tobacco and Renal Failure Among Sudanese Patients. AL-Kindy College Medical Journal, 18(1), 13–17. https://doi.org/10.47723/kcmj.v18i1.786 (Original work published May 5, 2022)
Section
Research Articles
License
Copyright (c) 2022 AL-Kindy College Medical Journal
This work is licensed under a Creative Commons Attribution 4.0 International License.