Antimicrobial Activity of Lepidium Sativum against Multi drug resistant and sensitive Pseudomonas aeruginosa from clinical isolates, Khartoum State, Sudan
Lepidium Sativum against Clinical isolates of Pseudomonas aeruginosa
Keywords:
drug resistance, clinical samples, lepidium sativum, pseudomonas aeruginosa, seed extracts
Abstract
Background: L. sativum, are traditionally used for the treatment of various diseases and thought to have medicinal value. Isolates from many part of the world is now multidrug resistant. Therefore, there is an urgent need to look for and test an alternative herbal drug.
Objective: The present study aimed to evaluate the antibacterial activity of L. Sativum seed extract against multi drug resistant (MDR) and sensitive Pseudomonas aeruginosa clinical isolates.
Subjects and Methods: An ethanolic and aqueous stock extracts were prepared from L.  sativum seed plant then serial dilutions were prepared and the obtained concentrations (50, 25, 12.5 and 6.2 mg/ml) were tested against 30 multidrug-resistant and 35 sensitive clinical isolates of Pseudomonas aeruginosa using wells diffusion method.
Results: It was found that L. sativum seed extracts had antimicrobial activity against MDR and sensitive isolates at different concentrations of 100, 50 and 25 according to the mean ± SD (standard deviation) of the maximum zones of inhibition. The total number of isolates that were sensitive to both extracts were 49/130 (37%) which represented 17/60 (28.3%) MDR and 32/70 (45.7%) sensitive isolates. The aqueous extract exhibited more inhibitory effect than ethanolic extract 43 (66%) vs. 6 (9%) against the examined isolates (n=65).
Conclusion: The study concluded that the L. sativum extracts had an antibacterial activity against the susceptible and MDR isolates which may enable it to be used an alternative treatment for medicinal purposes.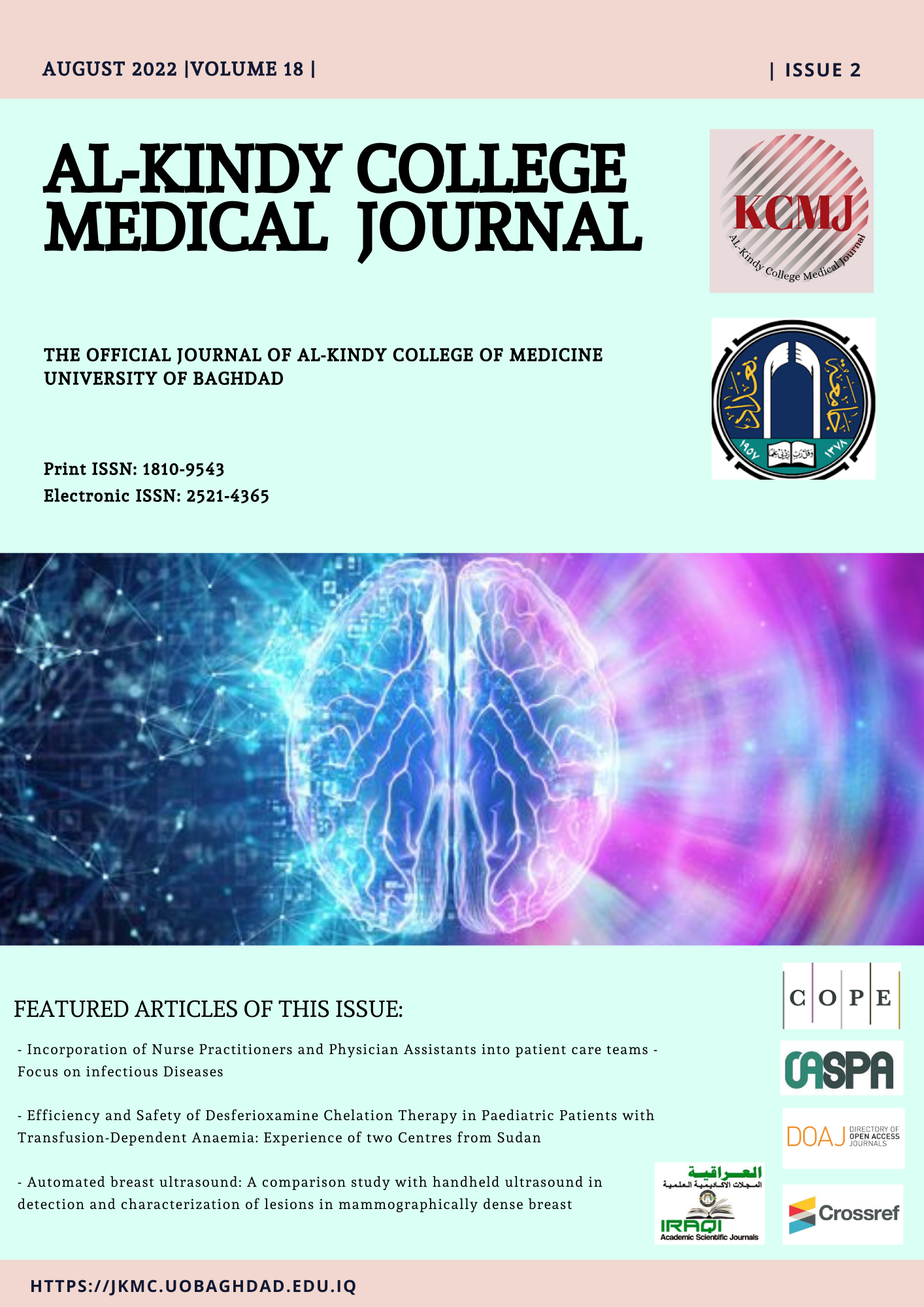 Downloads
How to Cite
Mubarak Margan, A. K., Hussein Arbab, M., Elsheikh Mohammed, S., Saeed Kabbashi, A. S. K., Agbash Baraka, A., & Mohammed Ahmed, N. (2022). Antimicrobial Activity of Lepidium Sativum against Multi drug resistant and sensitive Pseudomonas aeruginosa from clinical isolates, Khartoum State, Sudan: Lepidium Sativum against Clinical isolates of Pseudomonas aeruginosa . AL-Kindy College Medical Journal, 18(2), 96–100. https://doi.org/10.47723/kcmj.v18i2.807
Section
Research Articles
License
Copyright (c) 2022 AL-Kindy College Medical Journal
This work is licensed under a Creative Commons Attribution 4.0 International License.