Pulmonary CT findings in Patients Recovered from COVID-19 Pneumonia
Keywords:
COVID-19, CT, Residual findings, Recovery, Follow up
Abstract
Background: The COVID-19 infection is a more recent pandemic disease all over the world and studying the pulmonary findings on survivors of this disease has lately commenced.
Objective: We aimed to estimate the cumulative percentage of whole radiological resolution after 3 months from recovery and to define the residual chest CT findings and exploring the relevant affecting factors.
Subjects and Methods: Patients who had been previously diagnosed with COVID-19 pneumonia confirmed by RT-PCR test and had radiological evidence of pulmonary involvement by Chest CT during the acute illness were included in the present study. The radiological data of chest CT scan of all patients were collected and analyzed after recovery (confirmed by negative RT- PCR) three months after their initial diagnosis of having COVID 19 pneumonia.
Results: A total of 40 patients who had a second CT scans were assessed; there were 27 (67.5%) male and 13 (32.5%) female, with a mean age of 40.3 years old. The collective percentage of whole radiological resolution was 65% (26 patients). Patients >40 years old showed a significantly lower cumulative percentage of complete radiological resolution than patients ≤40 years old at the 3 months follow-up. The predominant patterns of abnormalities observed at discharge were ground-glass opacity (GGO), fibrous stripe and reticular opacities.
Conclusion: Lung findings in COVID-19 pneumonia patients can be resolved completely during medium-term follow up with no sequelae. The older age and co-morbidities are the main significant risk factors for residual radiological findings of COVID-19 disease.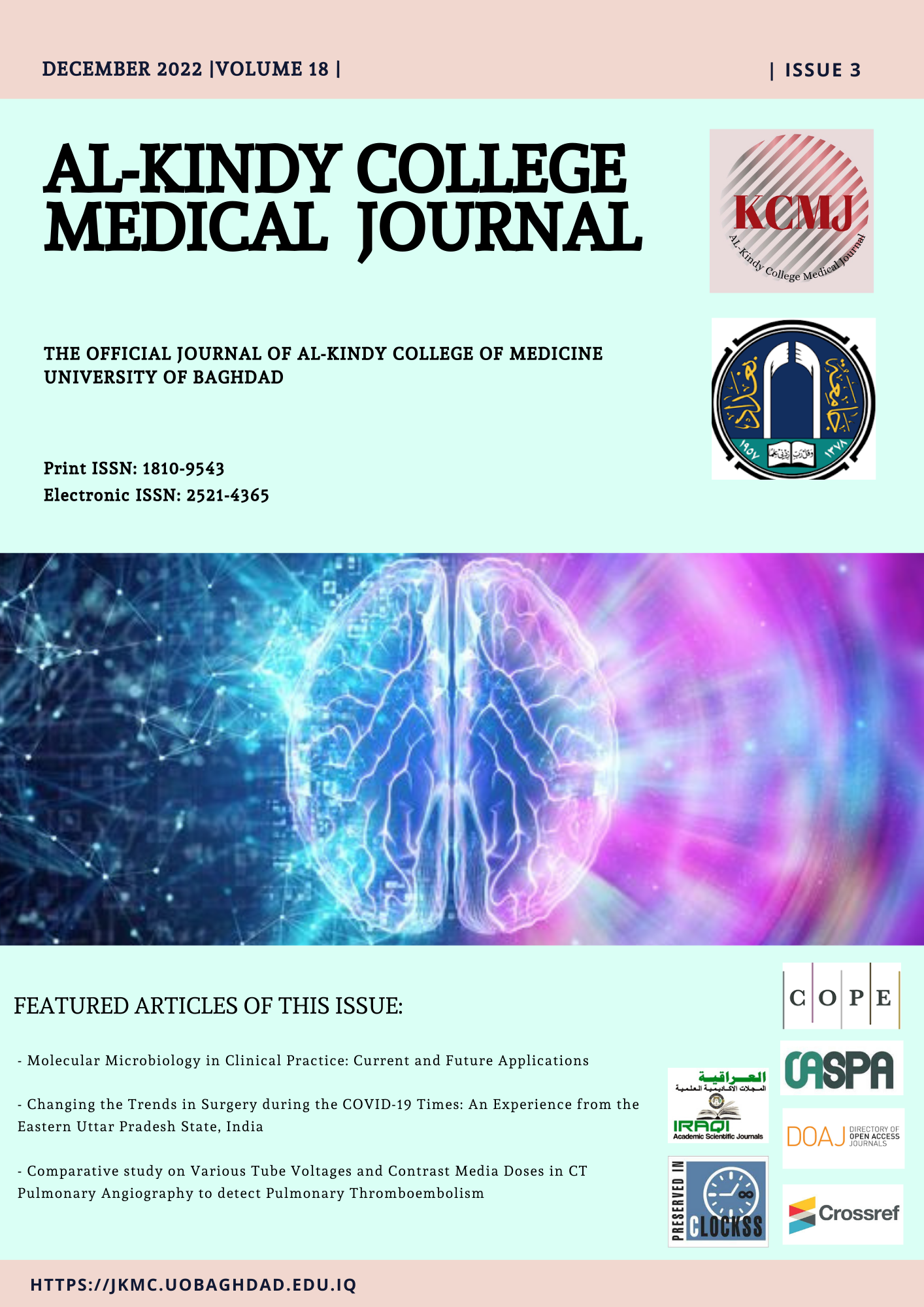 Downloads
How to Cite
Sura Abass Fadhil, & Abdulghani, M. (2022). Pulmonary CT findings in Patients Recovered from COVID-19 Pneumonia . AL-Kindy College Medical Journal, 18(3), 196–200. https://doi.org/10.47723/kcmj.v18i3.828
Section
Research Articles
License
Copyright (c) 2022 AL-Kindy College Medical Journal
This work is licensed under a Creative Commons Attribution 4.0 International License.