Effectiveness of conventional phototherapy, intensive phototherapy and exchange transfusion in treating neonatal jaundice at Fatima Al-Zahra Hospital for maternity and children in Baghdad
Ahmed Salih Marzoog

Department of pediatrics at Fatema AL-Zahraa hospital for maternity and children. Baghdad. Iraq

Hussein Naeem Mohammed

Department of pediatrics at Fatema AL-Zahraa hospital for maternity and children. Baghdad. Iraq

Kholod Dhaher Habib

Department of pediatrics at Fatema AL-Zahraa hospital for maternity and children. Baghdad. Iraq
Keywords:
Hyperbilirubinemia, Intensive phototherapy, Phototherapy, Exchange transfusion, Neonatal jaundice
Abstract
Background: Neonatal hyperbilirubinemia is a common disease in neonates especially in early days of birth that requires a good and successful treatment for reducing the severity and its complications that can produce important and irreversible effects.
Objectives: To evaluate the effectiveness of conventional phototherapy, intensive phototherapy and exchange transfusion on outcomes of neonatal jaundice at Fatima Al-Zahra Hospital for maternity and child care in Baghdad.
Patients & Methods: A retrospective study was carried out using medical records of neonates with diagnosis of unconjugated jaundice, admitted in the septic neonatal care unit of Fatima Al-Zahra hospital over 6 months period between 1st May till 31st October 2018. The total serum bilirubin, fractionations and blood group were done in all cases. They treated with conventional phototherapy, intensive phototherapy and exchange transfusion according to the severity of jaundice.
Results: Total neonates admitted from 1st may to 31st October 2018 in septic neonatal care unit were 1254, among them 432 (35%) were diagnosed as unconjugated neonatal jaundice "indirect hyperbilirubinemia". Male: Female ratio (1.4:1), males 256(59.3%), females 176(40.7%). Physiological jaundice was the most common cause 129(29.9%) cases. Prematurity in 104(24.1%) and ABO incompatibility 59(13.7%) while Rh incompatibility 14(3.2%), sepsis 8(1.9%) and unknown causes of jaundice were 118(27.3%) because lack of lab facilities. Conventional phototherapy was the most common kind of treatment in 237(55%) while intensive phototherapy used in 175(40.3%) cases with successful reduction in T.S.B level and the rate of improvement without need for exchange transfusion (92%) (161/175).Only 20(4.5%) cases were treated with exchange transfusion especially for ABO incompatibility 8 (42.1%) cases and Rh incompatibility 4 (21.1%) cases. Most of neonates 429 (99.3%) discharged with complete improvement and only 2 (0.5%) neonates suffered from kernicterus and one death (0.2%).
Conclusion: Conventional phototherapy is still the standard treatment of mild to moderate indirect hyperbilirubinemia. Use of intensive phototherapy in the treatment of unconjugated neonatal hyperbilirubinemia is effective in reducing T.S.B level, need for exchange transfusion and hospital staying.
Recommendations: provide aseptic neonatal care unit in the hospital with further number of intensive phototherapy devices as it is so effective in treating unconjugated neonatal jaundice and reduces need for exchange transfusion as it is proven in the study.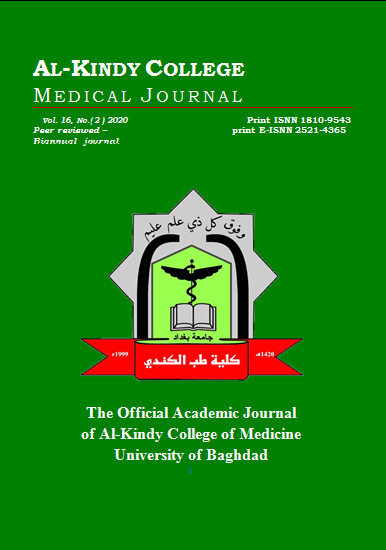 How to Cite
Marzoog, A., Mohammed, H., & Habib, K. (2020). Effectiveness of conventional phototherapy, intensive phototherapy and exchange transfusion in treating neonatal jaundice at Fatima Al-Zahra Hospital for maternity and children in Baghdad. AL-Kindy College Medical Journal, 16(2), 25-29. https://doi.org/10.47723/kcmj.v16i2.262
Section
Research Articles