Clinical Course and Disease`s Outcome Aspects of COVID-19 Pediatric Patients in Ibn Al-Khateeb Isolation Hospital
Keywords:
COVID-19, clinical feature, Chest x- ray, chest computed tomographic (CT) scans, outcome
Abstract
Background: Corona virus disease 2019 (COVID-19) is a communicable disease caused by severe acute respiratory syndrome coronavirus 2 (SARS-CoV-2). It was first identified in December 2019 in Wuhan, China, and has since spread globally, leading to an ongoing pandemic.
Aim of study: to review the clinical, lab investigation and imaging techniques, in pediatric age group affected COVID-19 to help medical experts better understand and supply timely diagnosis and treatment.
Subjects and methods: this study is a retrospective descriptive clinical study. The medical records of patients were analyzed. Information's recorded include demographic data, exposure history, symptoms, signs, laboratory findings, chest x- ray, and chest computed tomographic (CT) scans. Data were obtained with data collection forms from paper medical records.
Results:  there were 76 COVID-19 pediatric patients, 46.1% of those patients were within the age group 6 -10 years. The female to male ratio was 1:1, and 92.1% of them were living within the urbane area. About 60.5% of patients were pupils. Seventy-one (93.4%) patients of them had no comorbidity. Twenty (26.3%) patients were asymptomatic.  Regarding the duration of hospital stay, 39(51.31) patients had <7 days. All of the patients were nonsmokers. All patients had recovered and discharged from hospital after 2 negative real technique-polymerase chain reaction (RT-PCR) tests, no death was reported. Only 16(21.1%) patients had severe symptoms.
Conclusions: the most common symptoms were fever, Cough, Loss of appetite, Shortness of breath & Fatigue. There was a statistically significant association between white blood cells counts, neutrophil number, Chest X-Ray results, with case severity and a statistically significant association between form of treatment in patients who received Oxygen, Oseltamivir, Azithromycin, Paracetamol, Dexamethasone, and case severity.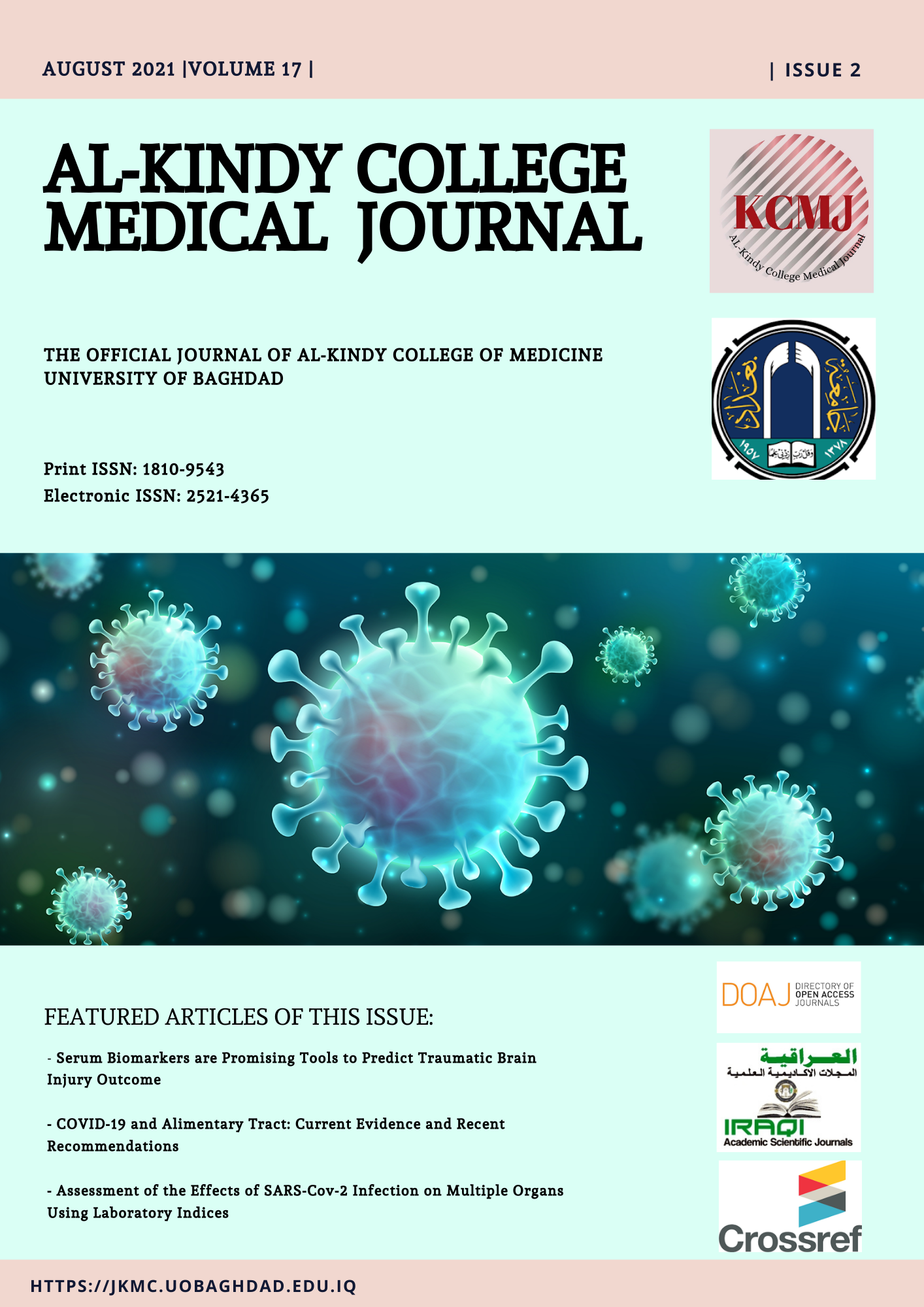 Downloads
How to Cite
Oleiw, A. O., Habib, K. D., Mohammed, K. A., Abbas, O. Y., & Jaber, Z. A. (2021). Clinical Course and Disease`s Outcome Aspects of COVID-19 Pediatric Patients in Ibn Al-Khateeb Isolation Hospital. AL-Kindy College Medical Journal, 17(2), 84–90. https://doi.org/10.47723/kcmj.v17i2.251
Section
Research Articles