Assessment of the Depression Level among Medical Students at University of Baghdad, College of Medicine
Zainab Ali Jaber

University of Baghdad - College of Medicine

Raghad Tawfeeq Salman

College of Medicine - University of Baghdad

Dania Yasser Abid Al Wahab

College of Medicine - University of Baghdad

Manal Adnan Habib

Department of Pathology, College of Medicine, University of Baghdad

https://orcid.org/0000-0002-0046-1259

Israa Ali Hussein
Keywords:
depression, medical students, Iraq, medical college, PHQ-9
Abstract
Background: Depression, a state of low mood and aversion to activity, can affect people's thoughts, behavior, tendencies, feelings, and sense of well-being. It can either be short-term or long-term, depending on the severity of the person's condition. Risk factors include personal or family history of depression, major life changes, trauma, stress, certain physical illnesses, and medications.
Objective: This study investigates the prevalence of depression among medical students at the University of Baghdad, college of medicine in Iraq, and the association between some variables and depression.
Subjects and Methods: A cross-sectional study design with a convenience sampling method was conducted. A sample of 323 medical students attending the University of Baghdad, college of medicine, were included in this study between July 2019 and September 2019, regardless of their age or gender. The study included five grades according to the year 2019-2020. An online survey was conducted using Google Forms which included two sections. Section 1 included questions about participants' demographics. The second section included the PHQ-9 (Patient Health Questionnaire-9) score.
Results: A total of 323 students of different demographics participated in this study. The number of males was 108 (33.4%), and the number of females was 215 (66.6%). The frequency of participants who got mild depression was the highest, i.e., 127 (39.3%), whereas 85 (26.3%) were non-depressed. Therefore, this study sample had a high prevalence of depression. On the other hand, the frequency of mild-moderate depression was 57.9%.
Conclusion: The prevalence of depression among medical students at the University of Baghdad was high. Gender, having friends, having a medical condition or disease, having family issues, whether it's easy to communicate with others, encountering an event that affected them, and having a family member who suffers from a psychological condition are associated with depression among students. In contrast, age, marital status, college year, seeking help in the past, and having a part-time job have no association with depression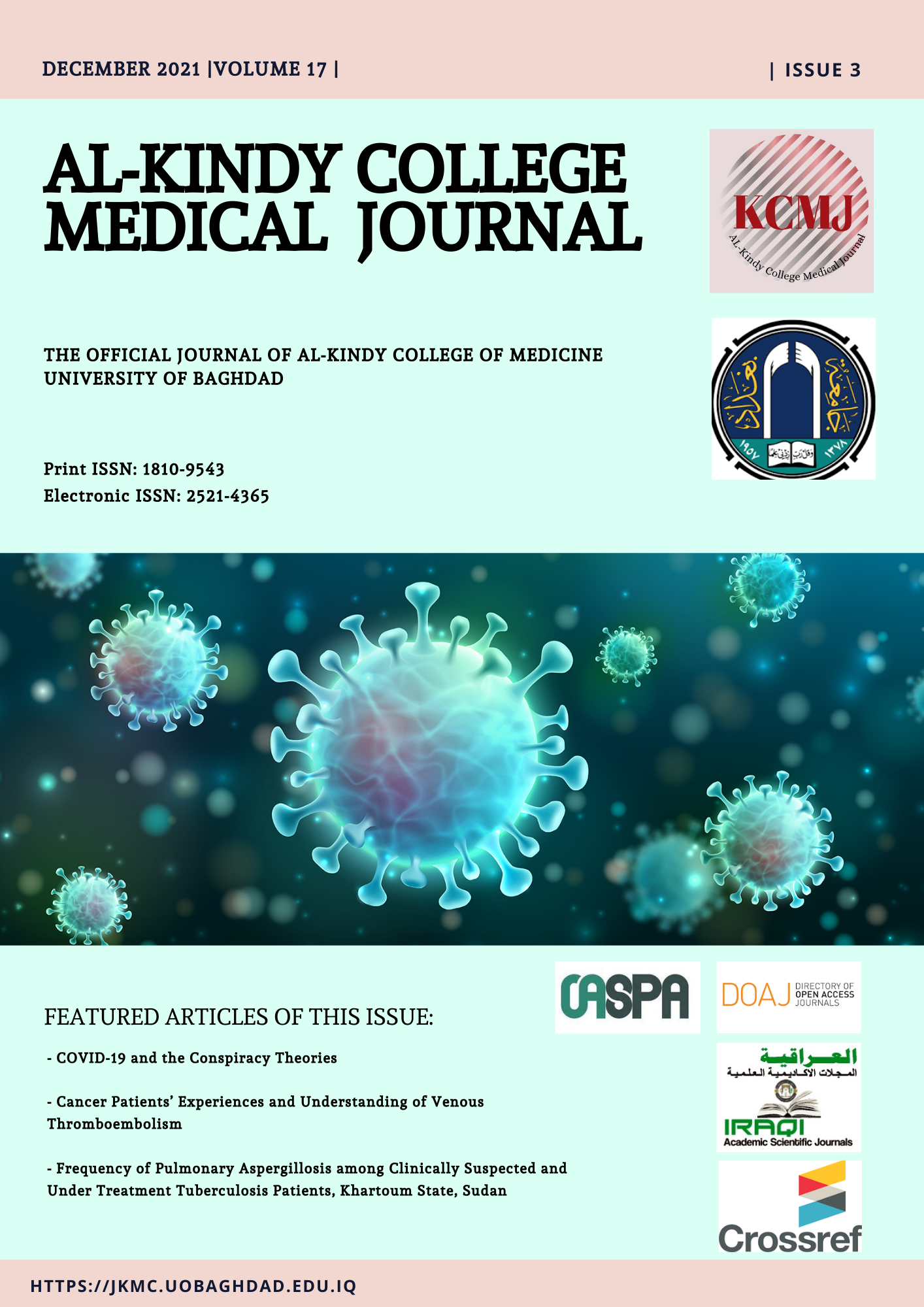 How to Cite
Jaber, Z., Salman, R., Abid Al Wahab, D., Habib, M., & Hussein, I. (2021). Assessment of the Depression Level among Medical Students at University of Baghdad, College of Medicine. AL-Kindy College Medical Journal, 17(3), 175-179. https://doi.org/10.47723/kcmj.v17i3.248
Section
Research Articles
Copyright (c) 2021 AL-Kindy College Medical Journal
This work is licensed under a Creative Commons Attribution 4.0 International License.