Vitamin D deficiency/ insufficiency and some of its related factors in a sample of Iraqi pregnant women and their neonates at Al-Elwiya Maternity Teaching Hospital during 2019
Waad Edan Louis Al-Rubaye

Neonantal intensive care uint/ Al-Elwiya teaching hospital for maternity / Baghdad-AlRusafah Health Directorate

Bahjat Abdulridha Thabit Al-Saeedy

Public Health unit/ Al-Wasity teaching hospital for plastic and reconstructive surgery/ Baghdad-AlRusafah Health Directorate/ Ministry of Health/Environment.

Zahraa Muhammed Jameel Al-Sattam

Al-Kindy College of Medicine - University of Baghdad
Keywords:
Vitamin D deficiency, pregnancy, neonate
Abstract
Background: Vitamin D deficiency/ insufficiency is common in different age groups in both genders especially among pregnant women and neonates where it is associated with several adverse outcomes including preeclampsia and preterm delivery.  
Objectives: To assess the extent of vitamin D deficiency/ insufficiency among mothers and their neonates and some factors related to it and identify some adverse outcomes of the deficiency/ insufficiency on neonates (preterm birth and low birth weight).
Subject and Methods: A cross-sectional study was conducted on 88 Iraqi pregnant women and neonates admitted to "Al-Elwiya teaching hospital for maternity" in Baghdad- Al-Rusafah from 1st of June 2019 to 31st of August 2019. Data about maternal age, mode of delivery, sex, weight, and gestational age were obtained. Vitamin D levels of mothers and their neonates were measured by Enzyme-Linked Immunosorbent Assay (ELISA).
Results: In a total of 88 mothers and neonates, 96.6% of mothers had Vitamin D deficiency/ insufficiency compared to (86.4%) of neonates. There was a statistically significant difference between maternal and neonatal vitamin D levels. Neonatal Vitamin D levels were positively correlated with maternal vitamin D levels. Neonatal weight was positively correlated with maternal Vitamin D levels. The mean maternal and neonatal vitamin D levels were (12.16 ng/ml ± 7.06) and (20.25 ng/ml ± 10.97) respectively.
Conclusions: Vitamin D deficiency/ insufficiency was prevalent among mothers and neonates; with a higher prevalence among mothers. Maternal Vitamin D levels and neonatal weights were associated with neonatal Vitamin D levels.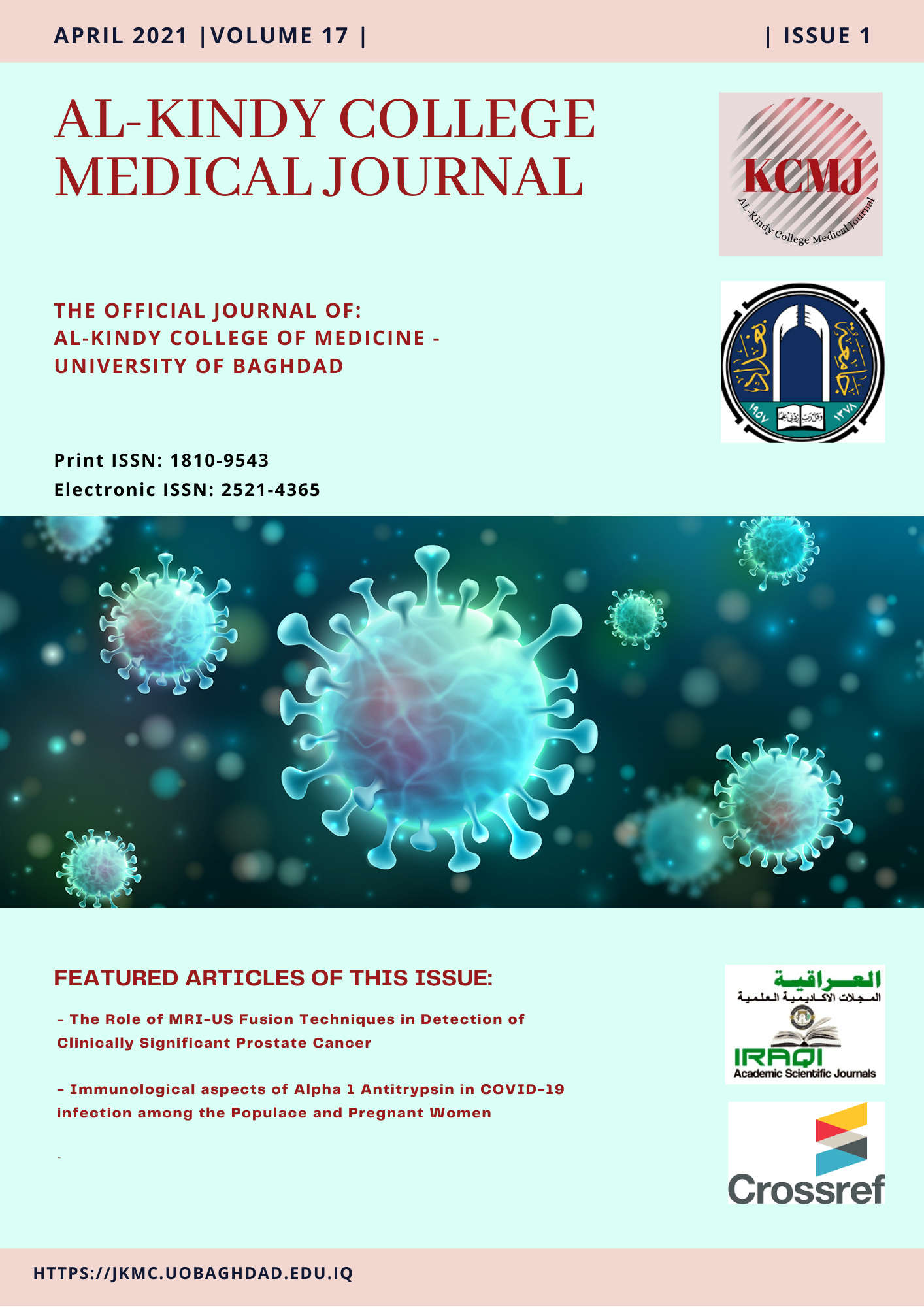 How to Cite
Al-Rubaye, W. E., Al-Saeedy, B., & Al-Sattam, Z. (2021). Vitamin D deficiency/ insufficiency and some of its related factors in a sample of Iraqi pregnant women and their neonates at Al-Elwiya Maternity Teaching Hospital during 2019. AL-Kindy College Medical Journal, 17(1), 35-40. https://doi.org/10.47723/kcmj.v17i1.294
Section
Research Articles