Correlation between Body Mass Index and Nonalcoholic Fatty Liver Disease
Keywords:
Body mass index, Fatty liver, NAFLD, Obesity
Abstract
Background: Non-alcoholic fatty liver disease (NAFLD) is the most common liver disorder globally. The prevalence is 25% worldwide, distributed widely in different populations and regions. The highest rates are reported for the Middle East (32%). Due to modern lifestyles and diet, there has been a persistent increase in the number of NAFLD patients. This increase occurred at the same time  where there were also increases in the number of people considered being obese all over the world. By analyzing fatty liver risk factors, studies found that body mass index, one of the most classical epidemiological indexes assessing obesity, was associated with the risk of fatty liver.
Objectives: To assess age, sex, and body mass index (BMI) as risk factors in NAFLD.
Subjects and Methods: It is a case-control cross-sectional study from September 2020 till June 2021  which included all obese patients consulted the obesity research and therapy unit during the period of the study. Age and sex were recorded, body mass indices were calculated for all patients and categorized into normal with BMI < 25kg/m2, overweight with BMI 25-30 kg/m2, and obese with BMI > 30 kg/m2, ultrasonography was done to them to diagnose fatty liver changes which were categorized into three grades; mild, moderate and severe
Results: 192 patients were enrolled in the study with an age range from 18-55 years with a mean of 38.09, males were 48 and females were 144. Sever NAFLD is present in 2.8% of obese females and 5.5% of obese male with 0% in normal and overweight individuals.
Conclusion: NAFLD was more prevalent with increasing BMI and age in all sexes.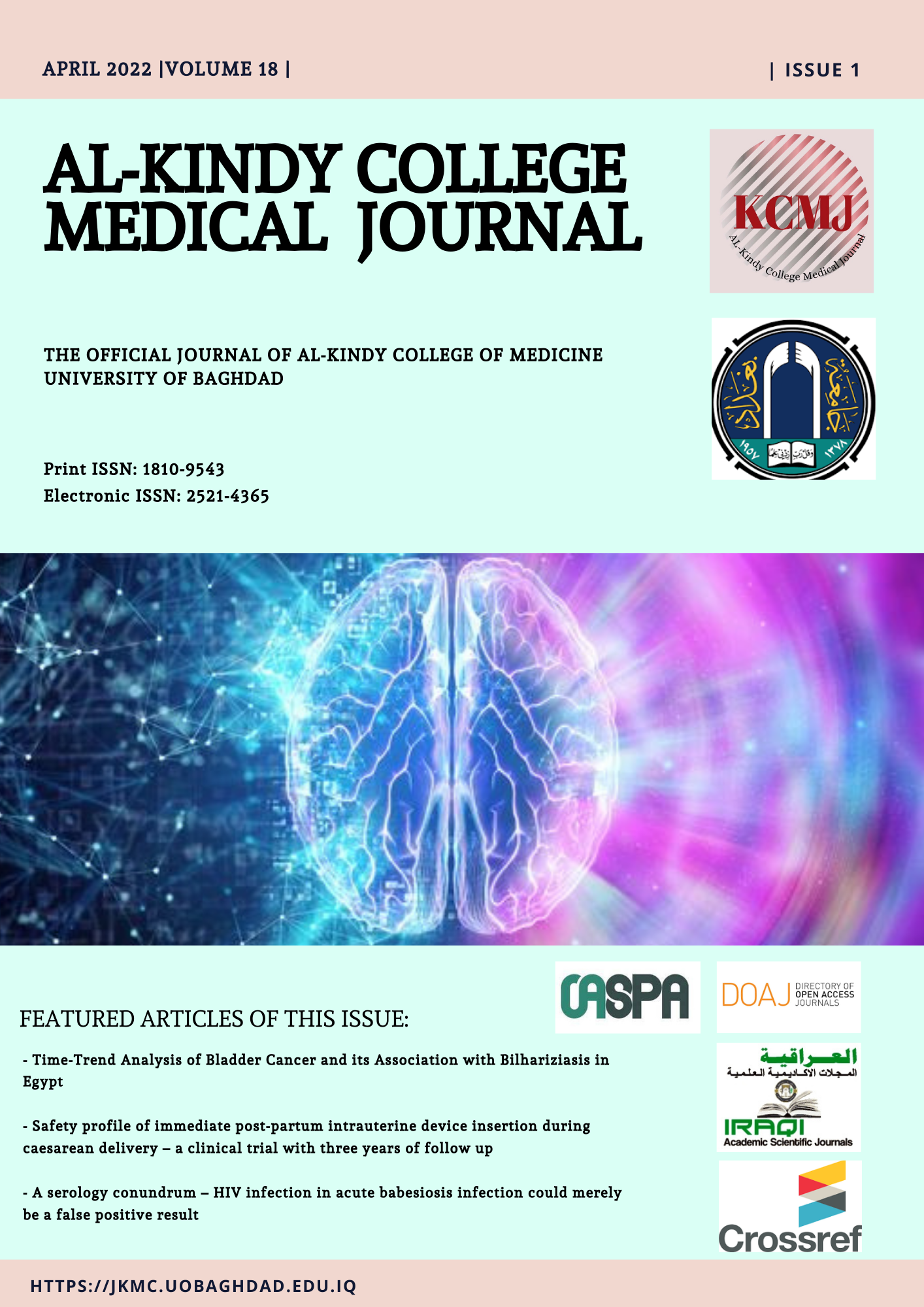 Downloads
How to Cite
Alrubaie, A. L., Rezqallah, R. E., Ahmed, M. A. ., Musa, S., & Al-Qanbar, M. H. . . (2022). Correlation between Body Mass Index and Nonalcoholic Fatty Liver Disease. AL-Kindy College Medical Journal, 18(1), 56–59. https://doi.org/10.47723/kcmj.v18i1.425
Section
Research Articles
License
Copyright (c) 2022 AL-Kindy College Medical Journal
This work is licensed under a Creative Commons Attribution 4.0 International License.