Frequency of Pulmonary Aspergillosis Among Clinically Suspected and Under Treatment Tuberculosis Patients , Khartoum State , Sudan
Keywords:
Aspergillus species, Sputum Samples, Sudanese Patients, Pulmonary Aspergillosis
Abstract
Background
Respiratory tract aspergillosis is a pulmonary disease cause by aspergillus species which are opportunistic fungi that mainly infect immuno-compromised patients .
 Objective(s)
The present study aimed to detect the frequency of pulmonary aspergillosis among clinically suspected and under follow up tuberculosis patients conducted at Tropical Diseases Teaching Hospital, Omdurman, Khartoum State , Sudan during the period from December 2019 to November 2020.
 Materials and Methods
One hundred and fifty sputum samples were collected from suspected cases of pulmonary tuberculosis and under follow up tuberculosis patients. All specimens were examined using 20% KOH and cultured on two sets of Sabouraudʹs Dextrose agar slope media with chloramphenicol.
Results
Asperigillus species were isolated from 9/150 (6%) patients. They represented 5(3.3%) A.fumigatus, 3 (2%) A. niger and 1 (0.6%) A. Flavus. It was found that all Aspergillus isolates were revealed from Non acid fast bacilli (Non AFB) patients 9/137(6.6%) with the most common frequency among asymptomatic patients 3/35(8.6%) , patients who were under tuberculosis treatment (8.5%), those who were under Rifampicin (RIF) and Isonizide (INH) treatment (10%) and with duration of less than three month. Also the higher percentage (13%) was represented among the age group range from 61-80 year and slightly among males 6/97 (6.2 %) than females 3/53 (5.7%). There was statistically non-significant association between the frequency of aspergillosis and the studied variables in this study.
Conclusion
 The frequency of pulmonary aspergillosis among patients with anti-tuberculosis treatment reflects the need for routine screening and diagnosis of those patients since the use of anti- tuberculosis treatment can promote the growth and reproduction of fungi.
Keywords
Pulmonary aspergillosis, tuberculosis, follow up patients.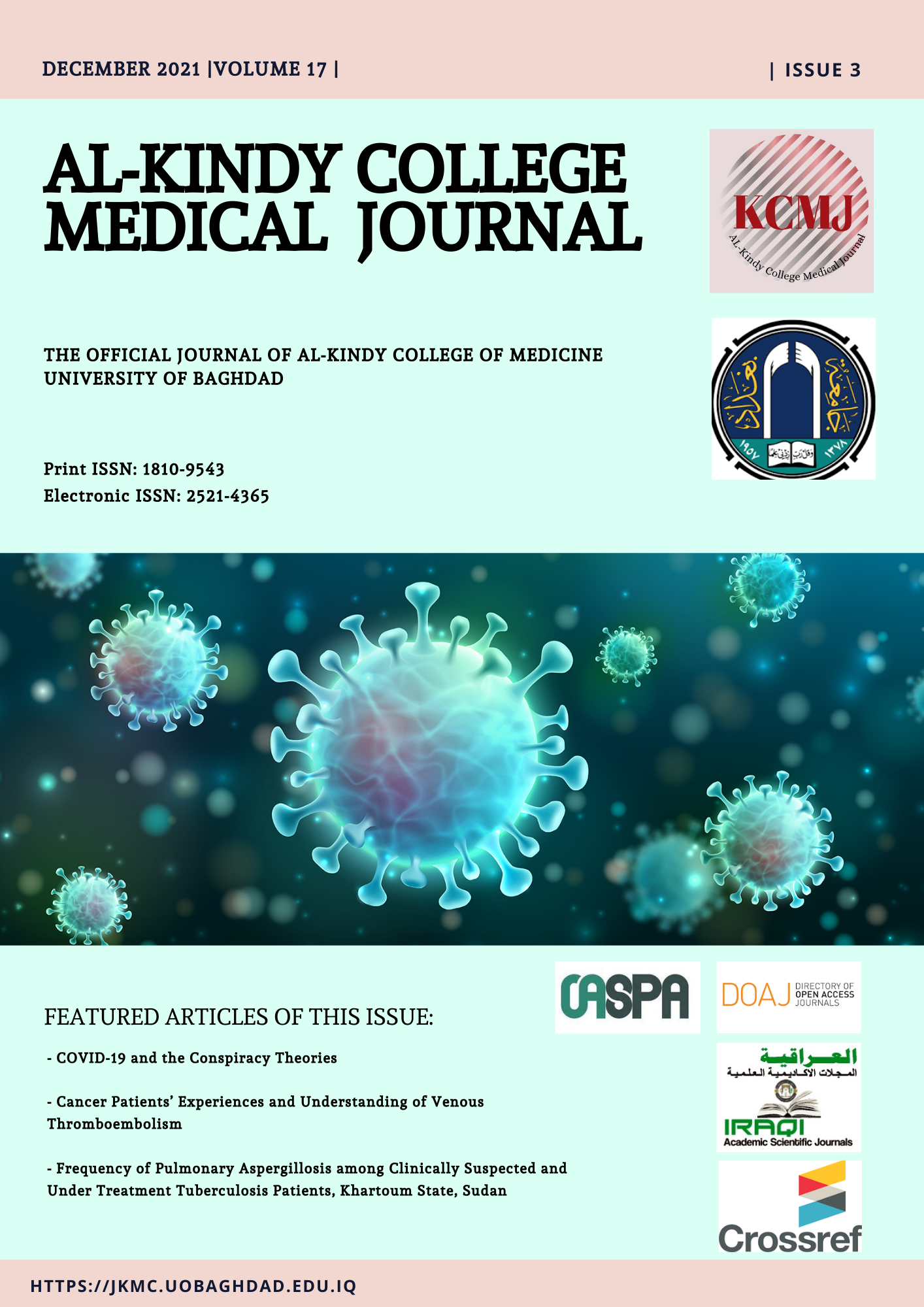 Downloads
How to Cite
Baraka, A. A., Alabid, S. A., Mohammed, M. A., & Ahmed, N. M. (2021). Frequency of Pulmonary Aspergillosis Among Clinically Suspected and Under Treatment Tuberculosis Patients , Khartoum State , Sudan. AL-Kindy College Medical Journal, 17(3), 180–184. https://doi.org/10.47723/kcmj.v17i3.430
Section
Research Articles