Prevalence of Cytomegalovirus Infection among Suspected Infants in Baghdad
Prevalence of CMV Infection
Keywords:
Cytomegalovirus, Infants, intrauterine infections
Abstract
Background: Cytomegalovirus (CMV) virus is a recognized important cause of congenital CMV infection which carries a significant risk for symptomatic disease and developmental defects in newborns. Its prevalence varies from place to other and time to time. This study is conducted to estimate its prevalence in Baghdad among infants suspected of having a congenital infection and to study the associated findings.   
 Subjects and Methods: The study was carried out in Al-Alwyia pediatrics teaching hospital. Data were collected, and blood samples were taken for infants suspected to have intrauterine infections over a period of one year, from 1 October 2019 to 1 October 2020.  Immunoglobulin M (IgM) tests for CMV were conducted for all collected samples.  CMV- immunoglobulin G (IgG) was a further analysis if negative results were obtained for CMV-IgM testing.  Samples were tested by Eliza method.
 Results:  The overall positivity for CMV-specific antibodies among suspected infants was 16.7% for IgM and 66 % for IgG. Males constitute 55% of CMV-IgM positive results. These results are statistically significant concerning age groups.  1-3-month age group was the largest (40 % of IgM positive infants) with a p-value of 0.000. This indicates delayed presentation of CMV-affected infants. With the same p-value, 74% of infants less than one month of age were IgG positive reflecting the maternal prevalence of CMV- IgG in an equivalent percentage. 
Convulsion followed by delayed milestones was the most common presenting symptoms in congenital CMV infection with statistically significant associations.
Conclusions: The study indicates that infection with CMV constitutes a significant portion of suspected infants.  The study recommends special attention to take steps concerning early management.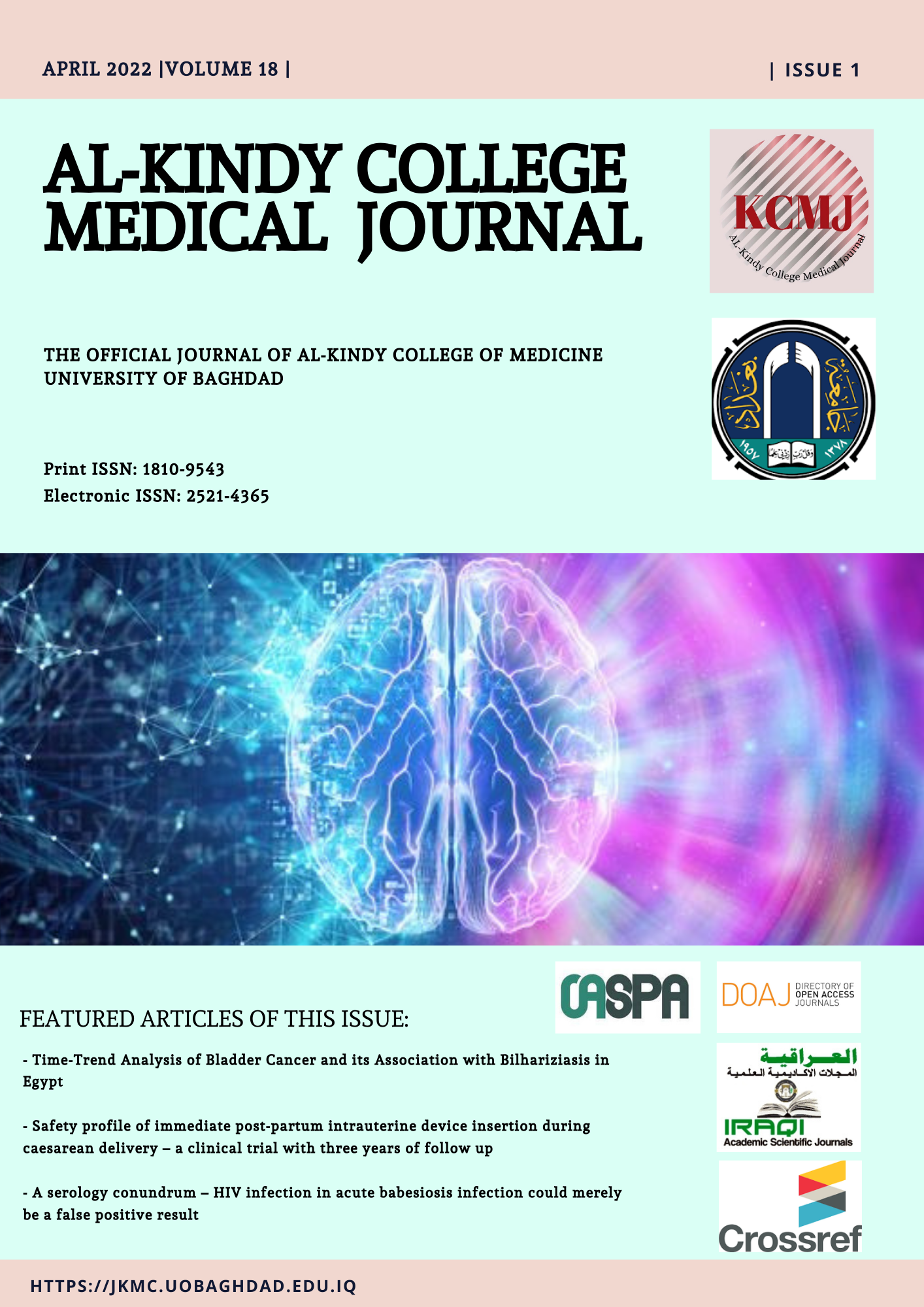 Downloads
How to Cite
Raham, T. F., Abdul-Wahab, A. N. ., & Chaloub, Z. A. (2022). Prevalence of Cytomegalovirus Infection among Suspected Infants in Baghdad: Prevalence of CMV Infection. AL-Kindy College Medical Journal, 18(1), 36–43. https://doi.org/10.47723/kcmj.v18i1.570
Section
Research Articles
License
Copyright (c) 2022 AL-Kindy College Medical Journal
This work is licensed under a Creative Commons Attribution 4.0 International License.